Webinar Smarts
In this month's feature interview, marketing consultant Marcia Yudkin talks to me about how business owners can use webinars to promote their business.
Listen to the episode here:
Feature Interview: Webinar Smarts – with Marcia Yudkin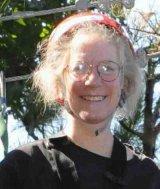 In this month's feature interview, marketing consultant Marcia Yudkin talks to me about how business owners can use webinars to promote their business. Marcia helps business owners with their marketing, PR, Internet marketing, Web sites and writing; and she is the author of the "Teleclass for Profit" course, a training program about how to use teleclasses and teleseminars.
Read more about webinars in my book "Webinar Smarts".
Six Principles of Online Collaboration
On-line collaboration has some things in common with face-to-face collaboration, but it also has some important differences. If you're working this way for the first time, you might not be aware of the potential pitfalls. In our book Out of Office, my co-author Chris Pudney and I talk about the six principles of on-line collaboration. I talked to Chris about these principles in a recent conversation …
To get our book, visit the Web site Out of Office: Using the Internet for Greater Freedom in Your Work Life.
Use an Online Course to Add Value to Your Presentations
You might know you're delivering great value in your workshops, but attendees and clients are concerned that they simply won't take action afterwards. One way to address this issue is by offering an on-line course – that is, a series of e-mails sent to the participants at scheduled intervals, reinforcing the material you taught, reminding them to take action, and rebuilding the bridge between your course and their day-to-day activities.
Workshops in Sydney
Monday 6th August: Webinar Smarts – Plan, Promote and Present Webinars
Although webinars can be very powerful, many presenters – even experienced presenters – find them a challenge, because it's new technology, an unfamiliar environment, an "invisible audience", and lots of things that can go wrong.
That's why I am running this workshop! We'll spend a day together, and at the end of it you'll have everything you need to present a powerful webinar.
Tuesday 7th August: Build Your Own On-Line Course
Most people who attend a conference, training course or seminar don't take action. With an on-line course that delivers on-going material to reinforce your live presentation, you embed the learning, create lasting results, and create more value for your clients and customers. You can also increase your fees and boost your sales (and profit!) from every workshop, speaking engagement or coaching client.
In this workshop, I'll show you how to plan, build and promote on-line courses in your business.
The Fit for the Future Podcast brings you regular ideas, interviews and insights about how you, your teams and your organisation can become fit for the future.
More ways to engage with me:
Want to know more about webinars?
Webinars can be one of your most powerful marketing and educational tools - if you know how to run them properly.
My book "Webinar Smarts" covers nearly everything you need to know about planning, preparing, promoting and presenting powerful and profitable webinars.
If you're interested in tapping into the power of webinars in your business, this book is for you.
Filed Under